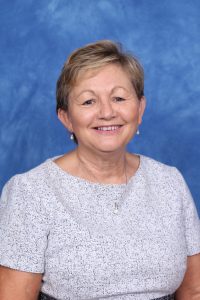 A message from our Principal, Mrs Cheryl Walsh
Welcome to St Patrick's, we are a Catholic School located in East Gosford on the Central Coast. St Patrick's is a two-stream school which offers an excellent choice for local families. We are a welcoming and inclusive community where our Catholic faith values permeate everything we do. Families from diverse cultural backgrounds and religions are welcome and we are blessed to have approximately one third of our students from different cultures as well as two Aspect satellite classes which further enrich our community.
We recognise each child as being unique and formed in the image of God. We are a school community where a friendly, trusting collaboration between principal, parish priest, teachers and parents is fostered for the ongoing development of each individual.
Learning is very important at St Patrick's and is based on sound educational pedagogy, where students are encouraged to try their best and take responsibility for their own learning in a supportive and nurturing environment. We believe each student is unique and we strive to nurture the growth of the whole child – spiritually, academically, physically and socially.
We offer diverse curricula activities which are initiated by a caring and dedicated team of professionals. These include sporting opportunities, debating, public speaking, music and social justice. As one of the most established schools on the coast, we have well-maintained grounds and facilities. This, together with our parental involvement, combine to offer excellent learning opportunities.
St Patrick's is blessed with a dedicated and caring staff who have created a loving Christian environment that is the essence of all we do. St Patrick's School is a place where disciples of Jesus are formed and nurtured to achieve excellence in order to make a difference in the world.
Enquiries are always welcome. Simply e-mail the office, call or come and visit us
Mrs Cheryl Walsh, Principal
Online Enrolment Enquiry Form