St Patrick's Catholic School continues a proud history of providing quality Catholic education in Gosford and its surrounding areas.
This dates back to 1910 when the Sisters of St Joseph established the school as Our Lady of the Rosary Catholic School Gosford, making it the oldest Catholic primary school on the Central Coast. The school was established on its present site by the Sisters in 1960. In 1967 St Patrick's became a primary school catering only for K to 6 students.
At St Patrick's Catholic school, catholic discipleship is promoted by providing a distinctively Catholic School where Christ's Gospel message is witnessed; acknowledging our faith identity as part of the Broken Bay Diocese and wider Catholic church; imparting knowledge and understanding of Catholic history, traditions and rituals in our contemporary setting.
St Patrick's Catholic School promotes a strong religious dimension that is evident throughout the school. Children are exposed to a rich variety of liturgical experiences and have daily exposure to Gospel values through all Key Learning Areas and through interaction with staff and parents.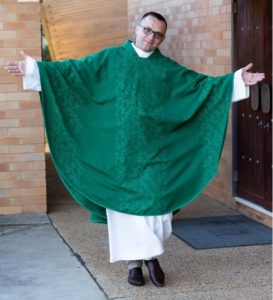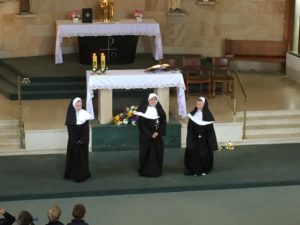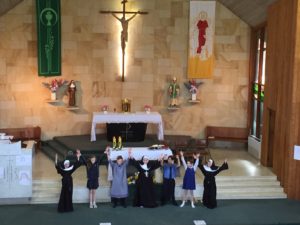 Liturgical Life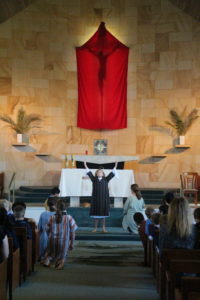 Each term a liturgical calendar reflects the involvement of children in whole school masses, liturgical celebrations and special feast days.
Each stage also celebrates a liturgy together each term. Children in Years 3 to 6 celebrate Reconciliation once a term. The sacraments of Reconciliation and Eucharist are received by children from Years 3 to 6.
Each class group enjoys prayer during the day at regular intervals both formally and informally. All classrooms have prayer tables that display the liturgical colours throughout the church year. Cloths and resources for prayer are updated, with each class taking responsibility of a prayer box containing cloths, prayer books and a crucifix.
School, Parish, Diocese
Children are involved in parish life in a variety of ways. Opportunities for involvement in liturgy include altar serving, assisting with collections, participation in the choir, procession of gifts and Gospel. Students are involved in Sunday Mass celebrations with a focus on children and families. These are held several times throughout the year.
Every week a class attends the 10:00am Parish Mass in the church. Special feast days are also celebrated in communion with the Parish.
The school continues to support Parish initiatives such as the implementation of computer technology, parish dinner dance, St Vincent de Paul activities and making hampers for Christmas for those in need in our own Parish. Year 6 students are involved in performing liturgical movements at ecumenical services in our church and other denominational churches. The parish and school share newsletters and other information, which are distributed to the children and Parish.
The parish-based sacramental program is held in the school classrooms. It is supported by the school through the implementation of modules of work from the Religious Education Curriculum. Some staff members act as sacramental leaders in the Parish.