Welcome to Home-Based Learning (HBL)
St Patrick's East Gosford Home-Based Learning for
Week 1 of Term 3 2021
Due to the current Government Covid restrictions we will be conducting Home-Based Learning (HBL) for the first week of Term 3 2021. There will be no HBL on Monday 12 July as teachers will be preparing the learning activities for the students.
Our HBL activities are designed to allow students to work through with a degree of independence and some teacher interaction/assistance through the Google Classroom platform (for students in Years 1-6). Packages of learning materials will be provided by the teachers for all Kindergarten students – these packages can be picked up from the School Office.
We have created a Google Site for the students to remotely access their HBL via Google
Classrooms. Click here to access the Google Site, then select your child's Year Group from the top of the page. Learning activities will be ready for all grades from 5pm the night before the day of learning (for example, the learning activities for Tuesday 13 July will be posted on the Google Classroom at 5pm on Monday 12 July and so on). If your child has not yet joined their Google Classroom page they can join using the code under the Google Classroom picture on the Google
Site.
All parents have received their child's log in details (username and password) from the school. If your child cannot access the system please contact your child's class teacher by school email (speg@dbb.org.au).
Parents can provide support for your children by:
● establishing routines and expectations
● defining a regular space for your child to learn
● monitoring communications from school and teachers
● taking an active role in helping your child to process their learning
● encouraging physical activity and/or exercise daily
● checking in with your child regularly to help them to manage stress
● monitoring how much time your child is spending online
● setting rules around your child's social media interactions
● communicating with your child's teacher if your child is unable to participate in the learning
at home
● remember to follow the Diocesan Policies for Acceptable Use – DSS Social Media Policy
(2018)and the DSS Acceptable Use Policy for Internet & Network Services (2020)
Students should:
● establish and/or follow a daily/weekly routine for learning
● work with parents to identify a safe, comfortable, quiet space at home where they can work
effectively and successfully
● regularly check the school HBL platform, 'Google Classroom'
● regularly check for communications from school announcements and feedback from the
teacher
● complete tasks to the best of their ability, always remembering that their work should be
neat and tidy and finished to the high standard the teacher would expect.
● remember to be respectful in all their dealings with teachers and other students online
● do their best to complete the tasks set by the teacher
● contact their teacher if they need help
Wellbeing and Social Connections
Social connection and our mental health is so important, now more than ever. Even though we are
practising social distancing we can still be connected and support each other within our school and
parish community:
● Watch the daily Parish Mass on Zoom
● Access apps such as Headspace, Calm or other similar programs
● Make sure you are staying physically active
● Take some time out to read a book, do a puzzle or jigsaw, have a cuddle, watch a family movie, play a game together etc
Weekly Schedule
Following is a suggested schedule for this week for Home-Based Learning. You don't have to follow this schedule explicitly. It is important for your child/children to have regular breaks and to move
around. It is very important that students are also involved in some physical activity every day.
➢ Infants classroom lessons may be only 20 – 30 mins long.
➢ Primary classroom lessons may be from 30 – 60 mins depending on the Key Learning Area
and the task.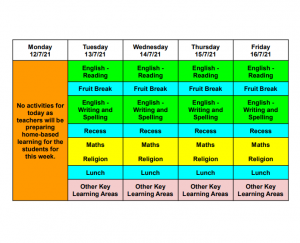 Learning tasks will be scheduled to appear on Google Classroom each day for students in Years 1-6. We are very aware that for some families completing all of these tasks is unrealistic at times.
Please remember that the tasks scheduled do not have to be completed on that day. It is important to remember to organise the completion of these tasks that best fit your family's circumstances.
We have categorised the HBL learning tasks under the following headings in Google Classroom:
TA (Teacher Assessed) – These tasks/activities are essential. All children must submit so we can report on student learning. These should be completed before any other task/activity. These are tasks/activities that should be 'submitted/handed in/turned in', on Google Classroom.
I (Independent) – These tasks/activities can be completed but are not essential. Students can complete independent task on a piece of paper, in a book or on a computer/device and discuss with someone at home. If students miss a day (depending on your family's circumstances), then the TA tasks/activities only need to be completed.
While we encourage the children to complete all the activities, the well-being of your family is paramount. If your family is overwhelmed, please choose a manageable amount of learning that your child can complete independently. We understand every day in your home is different and that sometimes children can complete all the activities and other days they cannot.