Welcome to the first version of our
Home-Based Learning (HBL)
Our HBL are Class-based activities led by class teachers, for students to work through with a degree of independence and some teacher interaction.
Some classes have already been using 'Google Classroom'.  These will be expanded for all classes and used across the school in Term 2 as the  COVID-19 situation continues. Click here if you need to access Google Classroom Help site.
All parents have received their child's log in details from the school and all students have been able to log onto the grade 'Google Classroom" at school. If your child cannot please contact your child's class teacher by email.
Parents can provide support for your children by:
establishing routines and expectations

defining a regular space for your child to learn

monitoring communications from school and teachers

taking an active role in helping your child process his/her learning

encouraging physical activity and/or exercise daily

checking in with your child regularly to help him/her manage stress

monitoring how much time your child is spending online

setting rules around your child's social media interactions

communicating with your child's teacher if your child is unable to participate in the learning at home

remember to follow the Diocesan Policies for Acceptable Use – DSS Social Media Policy (2018)and the DSS Acceptable Use Policy for Internet & Network Services (2020) 
Students should:
establish and/or follow a daily/weekly routine for learning

work with parents to identify a safe, comfortable, quiet space at home where they can work effectively and successfully

regularly check the school HBL platform, 'Google Classroom'

regularly check for communications from school announcements and feedback from the teacher

complete tasks to the best of their ability, always remembering that their work should be neat and tidy and finished to the high standard the teacher would expect.

remember to be respectful in all their dealings with teachers and other students online

do their best to complete the tasks set by the teacher

contact their teacher if they need help
Wellbeing and social connections:
This is new territory for all of us as we move to accommodate working from home, learning from home, social distancing, change of routine/structure, job loses, financial stress and while we as adults try to get our head around it all we need to remember that our children need to as well. For many, our faith is an integral part of our being and provides social cohesion within our community – the way in which we profess our faith has also changed.
Social connection and our mental health is so important, now more than ever. Even though we are practising social distancing we can still be connected and support each other within our school and parish community:
Watch Masses and Children's Liturgies online via St Patrick's Parish Facebook page

Access apps such as Headspace, Calm or other similar programs 

Make sure you are staying physically active 

Take some time out to read a book, do a puzzle or jigsaw, have a cuddle, watch a family movie, play a game together etc
Term 2 Suggested Weekly Schedule
Parents and students, this is a suggested schedule for Term 2 for Home-Based Learning to give you an idea of what a week at school looks like. You don't have to follow this schedule explicitly. It is important for your child/children to have regular breaks and to move around. It is very important that students are involved in a physical activity every day.
 In an Infants classroom lessons may be only 20 – 30 mins long.
In a Primary classroom lessons may be from 30 – 60 mins depending on the Key Learning Area and the task.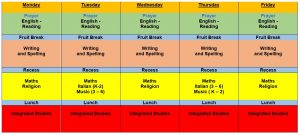 Term 2 Home-Based Learning
Please find the links below for Term 2 Home-Based Learning
Kindergarten
Click here for Week 4 – Monday 18th May
Year 1
Click here for Week 4 – Monday 18th May
Year 2
Click here for Week 4 – Monday 18th May
Year 3 
Click here for Week 4 – Monday 18th May
Year 4
Click here for Week 4 – Monday 18th May
Year 5
Click here for Week 4 – Monday 18th May
Year 6
Click here for Week 4 – Monday 18th May
Integrated Studies – History/Geography/Science/Creative Arts (Craft, Music, Drama)/PDHPE (Physical Activity, Personal Development, Health)/Library
Each week, teachers will schedule tasks for the children to complete on Google Classroom. These tasks will be scheduled to appear each day. We are very aware that for some families completing all of these tasks is unrealistic at times. Please remember that the tasks scheduled do not have to be completed on that day. It is important to remember to organise the completion of these tasks that best fit your family's circumstances.
We have categorised the learning tasks under the following headings:
TA (Teacher Assessed) – These tasks/activities are essential. All children must submit so we can report on student learning. These should be completed before any other task/activity. These are tasks/activities that should be 'submitted/handed in/turned in', on Google Classroom.
I (Independent) and (WB) Workbook – These tasks/activities can be completed but are not essential. If there is a 'WB' next to the task/activity, then students should do this in their workbook. If there is an 'I' then this is an independent task and students can do this on a piece of paper or discuss with someone at home. When students return to school on a full-time basis, the workbooks will be collected to assist teachers with reporting on their learning.
If students miss a day (depending on your family's circumstances), then the TA tasks/activities only need to be completed.
While we encourage the children to complete all the activities, the wellbeing of your family is paramount. If your family is overwhelmed, please choose a manageable amount of learning that your child can complete independently. We understand every day in your home is different and that sometimes children can complete all the activities and other days they cannot.
ST PATRICK'S GOOGLE SITE
This is St Patrick's Google Site, which has been created for students as supplementary material to support their learning. Use your school email and password to access. click here