Thank you for considering our school for your child's education in 2021.  Please collect an enrolment package which contains all the information that you require in making an application for enrolment at St Patrick's Catholic Primary School from the school office in Melbourne Street.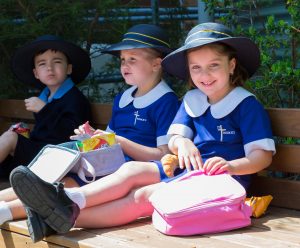 Enrolment Requirements
Student Enrolment Application Form
Family Registration Form
School Entrance Screener Form with a Passport Sized Photograph attached (Kindergarten only)
Asthma Student Record (only required if your child suffers from Asthma)
Privacy Policy
The following documents need to be included when returning the completed application package;
Baptismal Certificate
Birth Certificate (entry age is 5 years by 31st July) please bring along the original certificate
Vaccination Record from Medicare (which may be obtained online or from a Medicare office)
Passport and Visa of the Student and Parents for children not born in Australia (please bring original documents)
If relevant please include the following:
Reports on your child from other agencies e.g speech pathology;
Legal documents (e.g. custody) pertaining to your child/ren;
Previous school reports/references
SECTION 2
An important part of the enrolment process involves interviews with our Principal during May.
Screening for Kindergarten students for 2021 will take place following the interviews.
When returning the enrolment package please make interview times.
All enrolment applications will be considered by the Enrolment Committee in accordance with the Diocese of Broken Bay Enrolment Policy for Diocesan Systemic Schools.
Useful Information:
Class Requirements for 2020 - subject to change each year
Schedule of School Fees for 2020 - subject to change each year
Canteen Volunteer Form
Uniform Expectations
Why Identify